Most of the articles I write on my blog are in Spanish and related with marketing or social media, but ever since I've come back from a trip to New York people have been asking me about tips for their upcoming trip to the Big Apple. After sending several by mail, I decided to publish them on my blog in order to help others as well with the planning of their holiday to New York. These are, in my opinion, the 9 most important tips everyone should know before going to New York:
1. Start planning beforehand to make sure you can see everything you want
This probably sounds like the typical advice you can find on any general travel website or just about all the holiday forums you can find on the internet, but the fact is that especially when you're planning to go to the Big Apple, you'll need to plan how you're going to spend your time. As you'll see, everything's huge in the Empire State, so make sure to make a list of your top-10 of must-sees.
2. Inform yourself as much as possible about the New York way of living
If you've visited the USA before, you're probably familiar with the general differences there are between Europe and the "New Continent", and your suitcase is probably already packed with "survival items" such as travel adaptors, your international driver's license, a copy of your ID-card and passport, and a few dollars to tip the taxi driver at the airport or the bell boy at the hotel (tipping people for their services is still a wide-spread and well-appreciated practice in New York, also because most people monthly wage is mainly based on the number of tips they receive). There are however a few things that can be interesting to know about the New York way of living:
Manhattan is a metropolis with more than 25.846 people per square kilometre, making living in the city centre quite expensive (which is why most of the working class people tend to live in New Jersey or Brooklyn, just out of the city centre). If you're staying in a hotel in Manhattan, don't expect to get a big room for the high price you're paying. If you're on a budget, check out hotels in Brooklyn (at 15 minutes in subway from Manhattan), Staten Island (located next to the Statue of Liberty, with a free ferry that connects the island with Manhattan), or have a look at the many apartments for rent on websites such as Airbnb.
Real New Yorkers are always in a hurry, and they generally don't have time to eat breakfast at home or lunch in the office. Instead, they just eat on the street in front of one of the many cheap food trucks you'll find just about anywhere, leaving the restaurants for tourists. Things change at night however, since New Yorkers love to go out for dinner. If you're planning to have dinner at a popular restaurant, make sure to come on time or make a reservation to assure you'll have a seat. Bear in mind that most kitchens close at 22h in the evening.
Shops and malls have flexible opening hours and don't normally close before 22h in the evening on weekdays, and 20h in the evening during the weekend. Some big malls such as Macy's offer a 10% for tourists, so have your passport with you at all times.
Winters in New York can be quite cold, but summers on the other hand tend to be tropical especially since heat is trapped between New York's concrete jungle, and on a typical day you can go from cold rainy weather to warm sunny skies in just a few hours. Pack appropriately for your journey, and check the weather report before your visit.
3. Use public transportation to save time and money. The metro is the most efficient way to move around

If you're planning on crossing the different zones of the city in just a few days, you need to lose as little time as possible getting there. Sure, you can take the famous yellow cabs, but you'll spend most of your time in traffic jams. The only time a cab is preferably the best option is when travelling to and from JFK airport, as train services are less comfortable when you're trying to cope with jet-lag. At the airport you'll probably see people promoting shared van services that bring you to the different hotels in the area. What they don't tell you is that they don't leave until their van is full, and that you'll do all the hotels in your area before dropping off. Don't do it, it's a tourist trap.
For tourists visiting the Manhattan, the city offers a particularly interesting unlimited ride metro card, which allows you to take the metro as much as you want during a 7-day or 30-day time period. The metro cards can be bought at every metro station using a normal VISA card, and information about the cost price can be found on the official MTA or "Metropolitan Transportation Authority".
4. Get your Broadway tickets in advance and save up to 50% off the original price
So you want to enjoy one of the many Broadway musicals New York has to offer? When doing your research about what show you'd like to attend, you'll see that prices of an average Broadway musical are around $80-160. That's a whole lot of dollars if you're planning to make it a family trip. Luckily, the TDF comes to the rescue here! TDF, which stands for Theatre Development Funds, is a not-for-profit service organization for the performing art, which basically means they can sell Broadway tickets (yes, the official ones) with up to 50% off the original price at their TKTS Discount Boots. They're conveniently located at the following locations in the centre of Manhattan:
Times Square

: Located "under the red steps" in Father Duffy Square at Broadway and 47th Street.

South Street Seaport

: Located at the corner of Front and John Streets, near the rear of the Resnick/Prudential Building at 199 Water Street.

Downtown Brooklyn

: Located in 1 MetroTech Center at the corner of Jay Street and Myrtle Avenue Promenade.
More information about TKTS Discount Boots can be found here.
5. Use discount websites when visiting the typical tourist attractions, skip the queues and save time and money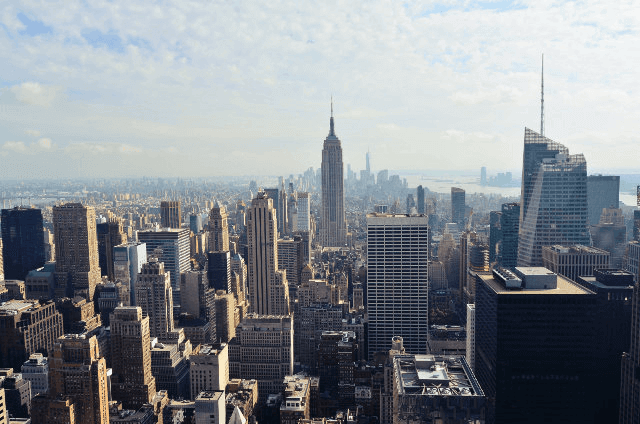 If you're planning to visit any of the various tourist attractions New York has to offer, such as the Statue of Liberty, Madame Tussauds, the Empire State or the Top of the Rock Observation Deck (there has been some discussion online about which one offers the best views, and I am among those that prefer Top of the Rock over the Empire State), you should definitely check out the New York Pass. The New York Pass, which can be bought online before arriving to the city, allows you a completely cash free entry to more than 80 attractions at discount prices, and in some cases even includes a fast track entry, meaning you don't even have to wait with the other tourist but can just skip the waiting lines. For a week in New York, the best option would probably be to get the 5 day card, and spend the other 2 days shopping or visiting some of New York's free attractions. On the New York Pass website you can also buy a hop-on hop-off bus tour package, but considering that the metro is that fastest and most efficient way to get around, with an unlimited metro card you'll probably not need to select this option.
More information about the New York Pass can be found here.
6. Locate Fifth Avenue and you'll get just about anywhere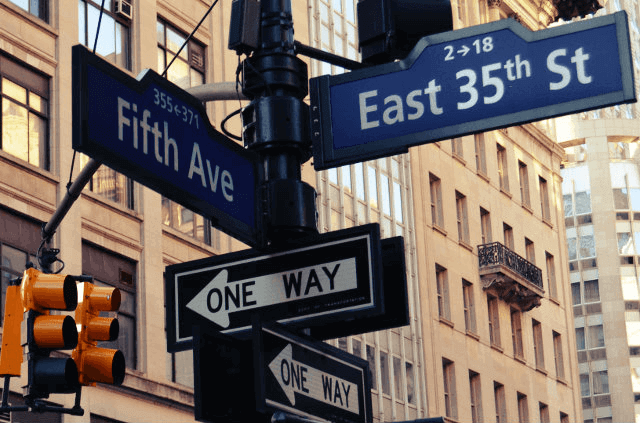 At first sight, trying to get your way around the streets in New York can seem complicated, but it's actually all quite remarkably logical once you know where Fifth Avenue is situated. Apart from the streets in Lower Manhattan, the New York street plan is designed in a perfectly linear manner, making orientation somewhat confusing at first sight until you keep in mind the following tricks:
All the streets that cross New York vertically are indicated as "Avenues", and they start on the right of Manhattan with 1st Avenue. All the horizontal streets are indicated as "Streets", and they start in Lower Manhattan (just above Houston Street) with 1st Street
When looking at a map of New York, Fifth Avenue is the first Avenue on the right of Central Park that vertically crosses Manhattan from Upper Manhattan to Lower Manhattan
Every street to the right of Fifth Avenue is indicated with an "E" (of "East") in front of it, every street to the left is located with an "W" in front of the street (I'll let you guess what it stand for ;-))
When a street doesn't have any numbers in it, it's probably located in the Lower Manhattan part of New York, unless you're searching for Broadway of course (located to the left of Central Park)
7. Don't forget your smartphone, because New York offers lots of places to stay connected on the go for free
Long gone are the days that (European) cell phones failed to work in the USA, and in the last years the Big Apple has really been promoting connectivity on the go with the installation of wifi hotspots in the city centre (for a complete list, check here), and even in public parks (more information here) making it no longer necessary to visit Starbucks five times a day just to check your e-mails.
Another great option to check your e-mails or update your Facebook status without depending on public wifi hotspots is to buy a prepaid SIM card during your stay. Several providers offer 7-day SIM cards with 4G data coverage and unlimited nationwide talk and international text messages for $25 dollars without having to sign any contract. An interesting option to take into account when you're planning to meet with locals, make reservations in restaurants or want to keep the home front informed about your whereabouts without having to worry about roaming costs.
8. Not all cool things in New York have to come with a price tag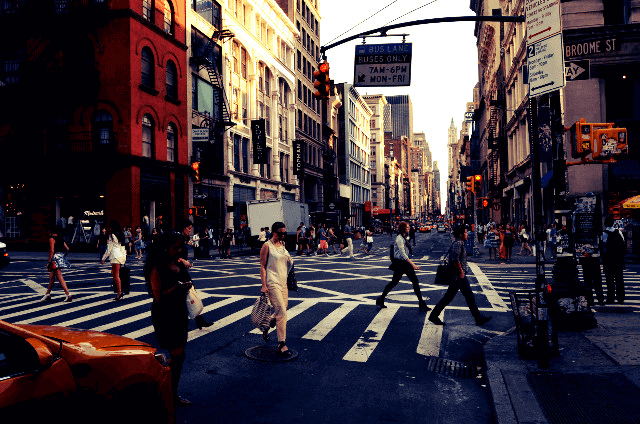 New York is known to be one of the most expensive cities in the United States, but what most people don't know is that there's also an ample variety of free festivals, tours and places to visit. This is just a small selection of my personal preferences, and more examples can also be found on websites such as Time Out New York or the Official NYC Guide:
For people looking to discover the hidden gems of the real New Yorkers, Big Apple Greeters offers free tours to everyone that submits a request on their website (more information here).
9. Take a break from all the hard work
After you've packed your suitcase, selected the tourist attractions you must visit and made all of the other necessary preparations, take a break from all the hard work and relax: you're about to visit one of the most dynamic and intriguing cities in the world, so enjoy your stay, and live the New York experience to the fullest.
—–
If you liked the article, don't hesitate to share it with someone else that is planning on making a trip to New York.